Yum! A Wine and Cheez-It Box Exists, So Our Summer Picnic Snacks Are Set For the Season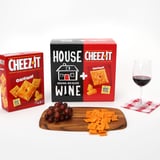 Get the Full Story
If you're a fan of a nice glass of wine and a cheese board, please allow us to introduce you to its snacking counterpart: a boxed wine and Cheez-It combo. The genius minds at Kellogg and House Wine put their brains together to create a dual-sided 25 pack that features a split between red wine and the original cheddar cheese snack you know and love - just in time for Summer picnic season.
FYI: the wine is an original red blend of 50 percent Cabernet Sauvignon and 50 percent Merlot with a 13 percent alcohol content. This isn't your childhood Cheez-It box, that's for sure. You can snag a pack for yourself on July 25 at 5 p.m. ET on the House Wine website, while supplies last. Happy hour can't come fast enough!
Share:
More in Lifestyle...