If Kim Kardashian Could Describe 3-Year-Old Saint in 1 Word, It'd Actually Be the Angel Emoji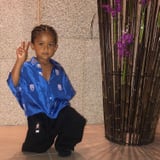 Get the Full Story
Kim Kardashian's 3-year-old son Saint West has been known to steal the spotlight in the past, but Kim would still consider him a little angel. In an adorable and highly fashionable Instagram post on Wednesday, Kim shared a photo of Saint kneeling on the floor and throwing a peace sign at the camera, and her caption was the sweetest! "This boy right here really lives up to his name!" Kim wrote, tacking on an angel emoji at the end for good measure.
While Kim didn't specify what exactly makes Saint so angelic, we have a feeling his brother Psalm has something to do with it. With the arrival of baby Psalm back in May, it looks like Saint has been taking his responsibilities as a big brother very seriously. "Saint said he's gonna pretend to sleep with his brother," Kim captioned a photo of the two brothers last month. "He always wants a pic to capture every moment. You have no idea how sweet my boys are!"
Related:
Night at the Museum! Kim Kardashian and Kanye West Share Photos From a Family Trip to Japan
Share:
More in Lifestyle...