Cheer or Fear? This Office-Themed Sock Advent Calendar Brings Out My Inner Belsnickel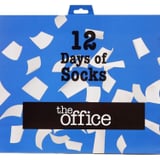 Get the Full Story
In the words of the great Michael Scott, "Christmas is awesome," and I can't think of any better way to celebrate than with this The Office 12 Days Of Socks Advent Calendar Set 50 , which I would gladly gift to all of my fellow Office fans. Made by Sock Em' Sock Emporium, the festive Advent calendar - available on Amazon - includes 12 pairs of socks available in men's size 6 to 12, and covered in some of the best quotes from the show. Need to remind yourself that you're the world's best boss? Want to rep your love for Schrute Farms? Feeling a little stitious? The socks say it all!
The inside of the Advent calendar even features a few familiar faces to help celebrate the holidays like a true Dunder Mifflin employee. Of course, nothing will ever compare to the letter in Jim's teapot gift for Pam, but this could still make for a pretty great stocking stuffer. Keep scrolling to take a closer look at the festive Dunder Mifflin socks ahead.
Related:
Hot Topic Has an Office-Themed Clue Board, and Michael Scott Is Already My Top Suspect
Share:
More in Lifestyle...