OMG! Disney Has New Basketball Minnie Ears, and Our All-Star Selves Need Them Now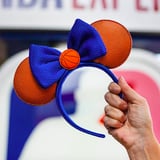 Get the Full Story
View this post on Instagram
A post shared by Disney Springs disneysprings on Dec 1, 2019 at 2:11pm PST
Every month, we feel pretty confident that our love for Minnie Mouse ears at Disney resorts has reached its limit, but every month, we're proven wrong with the debut of another adorable pair that we want to get our hands on ASAP. And that's exactly what happened when we spotted these basketball ears at the NBA Experience store in Disney Springs! The orange ears, which are currently exclusively sold at the NBA Experience store and cost 28, have the bumpy, leather-like surface of a basketball. They also have a royal blue bow with a small basketball in the center. We don't know about you, but we're thinking these ears are a slam dunk to add to our evergrowing collection!
View this post on Instagram
A post shared by Jana thewdwshopaholic on Nov 30, 2019 at 2:52pm PST
Share:
More in Lifestyle...