Kristen Bell Gave Her Friend an Unsettling Gag Gift For the Holidays: A Mold of Dax's Head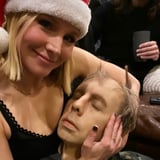 Get the Full Story
If you're partying with Kristen Bell around the holidays, expect the unexpected. The Frozen 2 actress participated in her annual White Elephant party with friends over the weekend, and while there were plenty of gag gifts all around, her contribution certainly made the others pale in comparison. Believe it or not, Kristen brought a detailed mold of her husband, Dax Shepard's, head to the party. Creepy or brilliant? I'll let you decide.
Kristen might've shocked her friends into disbelief with the, ahem, somber-looking Dax head, but she actually scored a pretty normal gift from the exchange. She walked away with a "Samantha?" hat a fun nod to her Pixar film and a back massager. Not everyone is lucky enough to get an "Armchair Expert" lookalike, I guess. If anything, this serves as a warning ahead of my next holiday party. I will be shaking the gifts before White Elephant begins, thankyouverymuch.
Share:
More in Lifestyle...