A UCLA Gymnast Channels Her Inner "Bad Guy" With a Floor Routine Billie Eilish Fans Will Love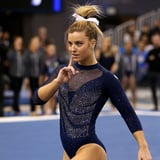 Get the Full Story
If there's one thing you can count on around this time of year, it's incredible routines from the UCLA Gymnastics team. Take Gracie Kramer's floor choreography, for example. The 21-year-old student recently competed in a meet against Boise State, and her talents are enough to impress any "bad guy."
Commentators called Gracie's routine "creepy" but, you know, in a good way. She channels some serious Billie Eilish energy through her flips, splits, and strides across the floor. Plus, you can catch some notes of Billie's hit song towards the end - seems to be a popular choice with collegiate athletes this season! Who can blame them? Watch the full routine above to see Gracie's unbelievable moves and attention to detail for yourself.
Share:
More in Lifestyle...