Marsai Martin's Mix-and-Match Eye Makeup Is Pure Bliss For Any Indecisive Folks Like Me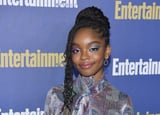 Get the Full Story
Marsai Martin is making a case for mismatched eye makeup, and your honor, I find her guilty of great style. The 15-year-old Blackish star showed up for Entertainment Weekly's SAG Awards pre-party on Saturday night wearing colorful shadow in two different color palettes: seafoam green and lavender.
The opposing colors shouldn't work so well together, yet thanks to talented makeup artist Shannon Pezzetta, they really, really do. Each lid flaunts a metallic sheen which complements Marsai's glossy Paco Rabanne dress well. Shannon kept the rest of Marsai's look understated, simply going for a subtle shine across the lips and rosy cheeks. Marsai is certainly no stranger to a bold beauty trend, and I don't expect her to slow down anytime soon. Ahead, see more snaps of her red carpet makeup look.
Related:
15-Year-Old Marsai Martin Is the Beauty Inspiration We Didn't Know We Needed
Share:
More in Lifestyle...