Millie Bobby Brown's Sharp SAG Awards Suit Proves That Some Things Never Go Out of Style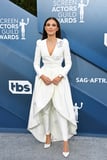 Get the Full Story
Millie Bobby Brown redefined the skirt suit at the 2020 SAG Awards. The Stranger Things actress attended the star-studded award show on Jan. 19 wearing a custom-made Louis Vuitton outfit consisting of tailored trousers and a high-low, belted dress jacket featuring a modern boutonni re.
Styled by Thomas Carter Phillips, the outfit was complemented by satin, pointed-toe pumps also by Louis Vuitton and a casual amount of Cartier jewelry, including a diamond necklace, earrings, and several rings. Get a closer look at Millie's classic and crisp outfit ahead, and then check out photos of Millie hanging with her Stranger Things costars on the red carpet.
Related:
You'll Want to Press Pause on the SAG Awards Red Carpet, So We Have All the Looks Right Here
Share:
More in Lifestyle...