These Are the 9 Most Comfortable Pants You Can Wear All Day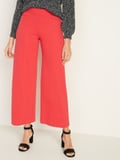 Get the Full Story
When it comes to picking out your outfit in the morning, there are days when you want to wear a stylish dress and other days when you just want to wear comfortable pants. After reading my coworker's glowing review of a pair of comfortable work pants from Old Navy recently, I knew I had to investigate the retailer's wide offering of soft and stretchy trousers. Whether you want an everyday pair of basics that go with everything in your closet or a fun print, we found nine options you can wear all day long. Now all you need is a great pair of shoes to go with them.
Related:
I'm a Shopping Editor, and Here's What I'm Buying at Old Navy This Week
Share:
More in Lifestyle...