We're Already in Love With Netflix's Always and Forever Soundtrack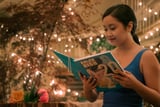 Get the Full Story
Netflix's To All the Boys franchise is ending on a high note . . . literally. Ahead of the Feb. 12 release of Always and Forever, Capitol Records unveiled the official track list for the upcoming soundtrack, which is set to drop the same day as the film. The soundtrack, which is titled To All The Boys: Always And Forever Music From The Netflix Film , includes a wide array of artists including Leah Nobel, Fletcher, Jordan Suaste, and Ashe. While some songs were written exclusively for the film, a handful of songs are currently available to stream. Listen to some of the tracks ahead, before the final film hits Netflix next month.
Related:
Find Out How Lara Jean and Peter's Love Story Wraps Up in the TATBILB Final Book
Share:
More in Lifestyle...