Kraft's New Candy Mac and Cheese Is . . . Not Exactly What I Had in Mind For Valentine's Day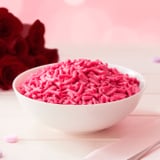 Get the Full Story
While I'm a big fan of dressing up my boxed mac and cheese and giving it an upgrade - by sprinkling in some crumbled bacon bits or tossing in fresh jalape os for a kick - I can't say Kraft's newest variation is what I had in mind. For those looking to spice up their Valentine's Day, Kraft just dropped Candy Mac & Cheese, and, of course, the macaroni is a bright shade of pink.
Described as the classic Kraft mac and cheese with an additional packet that has "hints of sweet candy flavor," the limited-edition pasta is certainly an unexpected choice. While I must say the neon pink macaroni doesn't exactly scream my name, I don't doubt some very adventurous people would love to get a taste. If you're looking to snag a box of these, erm, unique snacks, you'll have to leave it up to chance. Starting Jan. 27 through Feb. 8, you can enter for a chance to win your own Candy Mac and Cheese at CandyKraftMacandCheese.com, and a thousand lucky winners will receive their treats by Feb. 14, just in time for the romantic holiday. See the brand-new flavor ahead.
Related:
Kraft Just Made Pumpkin Spice Mac and Cheese a Thing - Why Mess With Perfection?
Share:
More in Lifestyle...