30 Movies That Should Be on Your Radar This Summer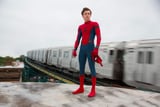 Get the Full Story
The stars poised to dominate the box office this Summer will make the price of a movie ticket worth it. Chris Pratt, Amy Schumer, Zac Efron, Tom Cruise, Scarlett Johansson, Mark Wahlberg, Jamie Foxx, Matthew McConaughey, Ryan Reynolds, and Channing Tatum are just some of the big names coming to theaters. Yes, while we're still working our way through Spring's hottest releases, we're already salivating over Summer's most anticipated titles. Take a look at the horror movies, indie films, comedies, and potential action blockbusters headed your way!
RelatedThe Best Horror Movies of 2017 - So Far
Share:
More in Lifestyle...