Looking at These Photos Will Convince You Salma Hayek Can Wear Anything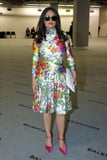 Get the Full Story
When we see a funky look go down the runway during Paris and Milan Fashion Weeks, we think, "Salma Hayek will probably wear that." Often, we are right, and that's because through the years we've come to know the Mexican actress's style. It's risky, sexy, eclectic, adventurous, and most of all constantly changing. One day, she can sport jeans and a t-shirt; the next, she'll be in a custom-made Dolce & Gabbana look. See what we mean for yourself by scrolling ahead to find Salma's best 2017 style so far.
Related23 PDA-Filled Moments Between Salma Hayek and Her Husband, Francois-Henri Pinault
Share:
More in Lifestyle...