The New Firework-Inspired Oreo Flavor Will Ignite Your Taste Buds With Popping Candy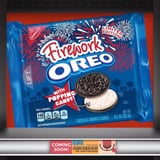 Get the Full Story
A post shared by The Junk Food Aisle thejunkfoodaisle on Feb 20, 2017 at 1:17pm PST
Another day, another new Oreo flavor! Firework Oreos are reportedly the next limited-edition flavor to hit store shelves, according to an Instagram photo posted by thejunkfoodaisle. The cookies appear to be the original chocolate Oreo with vanilla creme filling, but the filling has bits of red and blue popping candy throughout. Another Instagram user assures us these Oreos will be out on May 8, so be sure to keep your eyes open for the eye-catching packaging. We imagine these will taste like a hybrid between Oreos and Pop Rocks, which is one of the most intriguing flavor profiles yet. If they taste anything like Trader Joe's Fireworks Chocolate Bar one of our all-time favorites , we're in for a treat.
We've barely even wrapped our heads around Peeps Oreos for Easter, and now we've got these Fourth of July Oreos to look forward to. At least every Oreo fan is guaranteed to have some sort of fireworks show this Summer, right?
RelatedSpoiler Alert: Peeps Oreos Are on Their Way to a Shelf Near You!
Share:
More in Lifestyle...