Republicans Cut Funding to Planned Parenthood and Now It Has to Close 4 Clinics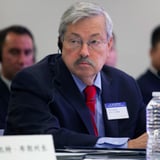 Get the Full Story
If it's not clear to you yet, Republicans will stop at nothing to continue their fight against women's access to reproductive health. Due to a new bill passed in the majority-Republican-led Iowa state legislature, Planned Parenthood will close four clinics in the state, potentially leaving 14,600 women without health care.
The bill, signed into law by Republican Governor Terry Branstad on May 12, will prohibit the Iowa Department of Health and Human Services from receiving federal Medicaid money for family planning. The state, which is forgoing 3 million from the federal government, will instead create its own family planning services that will not include clinics providing abortions. Due to the cuts in funding, Planned Parenthood of the Heartland will close its clinics in Quad Cities, Burlington, Keokuk, and Sioux City by June 30. The clinic in Quad City will remain open until the building is bought. After that, it will leave the state with only eight clinics left.
RelatedThis Congressman Thinks You Can Buy Birth Control at Grocery Stores
The organization has said it tried everything to fight the bill and will still try to help women in the state. "This is a case of extreme Iowa politicians deciding they know what's better for a woman's health than the women actually seeking care, with devastating consequences," said
Suzanna de Baca, president and CEO of Planned Parenthood of the Heartland, in an emailed press release. "We will do everything we can to continue to care for as many patients as we can. However, the harsh reality is that, despite all our efforts, there will be women who fall through the cracks and lose access to health care because of this dangerous legislation."
Planned Parenthood has estimated that more than 14,600 women will be left without healthcare options. The organization also stated that when the Keouk center closes, people will need to drive about an hour to reach the nearest "safety-net family planning provider." This situation is similar to a bill passed in Texas. Once that bill was passed in 2011, a study in the New England Journal of Medicine found that a 27 percent increase in births from Medicaid patients who no longer had the ability to go to a Planned Parenthood or a family planning clinic, since 82 closed in the state.
State Senator Janet Petersen was dismayed at what the legislature had done. Petersen told the The Des Moines Register that "the program dismantled by the state legislation was successful because it was inexpensive for taxpayers, and it helped reduce abortions and unintended pregnancies."
However, Planned Parenthood of the Heartland is hopeful. "While politicians may have abandoned women in Iowa, Planned Parenthood never will," said Baca. "We have been in Iowa for 83 years, and we are not going anywhere."
Share:
More in Lifestyle...