16 Caprese Spins That Will Make You Love This Salad Forever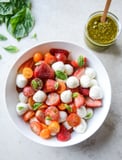 Get the Full Story
Mozzarella, tomato, and basil: these three harmonious Italian ingredients are the song of Summer, and they form the infamous caprese salad. However, the flavors lend themselves to a variety of other recipes: mac and cheese, grilled cheese, and hors d'oeuvres. Let these ideas be your guide all Summer long.
Related27 Recipes Meant For Anyone Obsessed With Ranch15 Spinach-Artichoke Recipes Inspired by the DipQuesadilla Recipes Like You've Never Seen Before
Share:
More in Lifestyle...