40 Jams You Need For the Perfect Summer 2017 Soundtrack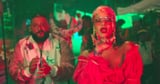 Get the Full Story
It's finally that wonderful time of year when everyone's got that school's out feeling. Whether class is out for the Summer for you for real, or you're just grinding through every week to make it to a blissful "Summer Friday," we all need the perfect playlist to help us keep the good vibes going. Below are some of the best jams out at the moment, and as the sunshine keeps on giving us those tan lines, we'll make sure to add some more tunes to our Spotify playlist for you scroll all the way to the bottom to listen to it! .
Related25 Songs You Definitely Turned Up to in 2007
Share:
More in Lifestyle...