The Best Brunch Spots in New York City, Hands Down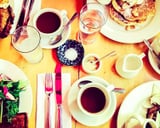 Get the Full Story
From mile-high stacks of pancakes and savory classics like eggs Benedict to bottomless mimosas and endless drips of coffee, there is no debating brunch is the most important meal of the weekend. And in New York City, it's kind of a big deal. In fact, brunching is practically a hobby. But with a sea of midday dining options spanning across five bustling boroughs, it can be quite the daunting task narrowing down just one.
Yet, have no fear, because if there was one thing I became while living in the Big Apple, it was a self-proclaimed brunchaholic. There, I said it. Through countless weekends of trial and error, I was able to sniff out the best deals, the best mouth-watering tastes, and, of course, the best places with killer brunch vibes. So if you're in the city and seeking the best of the best - you know, the best places for bagels, pancakes, french toast, waffles . . . the list goes on - I've got you covered. Ready to get your brunch fix?
RelatedBrunch Faceoff: The 50 Best Pancake, French Toast, and Waffle Recipes
Share:
More in Lifestyle...