17 Weeknight Dinner Recipes From The Pioneer Woman That Make Life Easier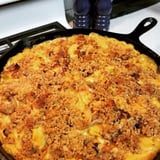 Get the Full Story
We might not all be able to re-create Ree Drummond's picturesque ranch and gorgeous kitchen at home, but at least we can re-create her dinners. And if there's anyone you should be drawing weeknight dinner inspiration from, it's Ree, a mother of four and master of fast, easy, and comforting recipes that you can whip up in a flash. Ahead, we've rounded up 17 of The Pioneer Woman's best weeknight dinners that you'll actually look forward to cooking, like pasta with pesto cream sauce, garlic-lemon shrimp, sheet-pan pork chops, and more. All of these tried-and-true recipes will make your life easier and tastier .
RelatedThe Pioneer Woman's Most Popular Casseroles Will Inspire You to Cook
Share:
More in Lifestyle...