3 Major Differences Between HomeGoods and Its Spinoff Store, HomeSense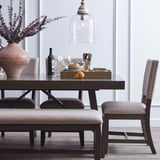 Get the Full Story
HomeGoods, the affordable decor store with a cult following, has had fans in a frenzy since its announcement this Winter that it would be launching a spinoff store called HomeSense. Details have been spare, but we now know that the first store will open in Framingham, MA, hometown of parent company TJX Co which also owns Marshalls and T.J.Maxx , on Aug. 17. And we have specifics on how HomeSense will differ from HomeGoods. Check out the three major differences below.
It Stocks More Furniture and Big Design Items
People reports that, like HomeGoods, HomeSense will focus on home items. But, while HomeGoods offers predominantly decor, HomeSense will offer an expanded selection of bigger items, including furniture, light fixtures, art, and even game tables.
There's a "General Store"
There will be a "General Store" People says. It will focus on practical essentials, like cleaning items, home-improvement supplies, and organization pieces, such as storage lockers, hardware, and cubbies.
The Layout Is Completely Different
While HomeGoods divides items into aisles by item kind, there isn't any ambiance and the store often feels like a giant catch-all of designer goodies and unique treasures. HomeSense, however, wants to feel like an actual home. In a press release, it was revealed that the store will be thoughtfully laid out to imitate the way items are arranged in real life, with products featured in styled vignettes, such as art displayed on a gallery wall. The idea is to inspire shoppers.
Share:
More in Lifestyle...