You Haven't Truly Watched Game of Thrones Unless You've Watched It With Leslie Jones's Tweets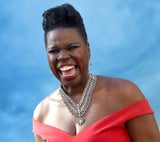 Get the Full Story
Unless you've been living under a rock, you're probably aware that the season seven premiere of Game of Thrones went down on Sunday night. The show kicked off with a bang and stars had a lot to say about the first episode, especially diehard fan Leslie Jones. The Saturday Night Live star live-tweeted during the entire episode and had thoughts on everything from Ed Sheeran's cameo to the wardrobe on the show. She even got a few ideas for her Emmys outfit. Kristen Bell better watch out, because Leslie is coming for her Game of Thrones crown.
RelatedEd Sheeran Totally Geeked Out Over His Appearance on Game of Thrones
Share:
More in Lifestyle...