Glossier Announced 2 New Bodycare Products With Stunningly Diverse Campaign Photos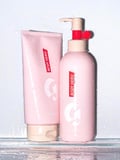 Get the Full Story
Glossier has already infiltrated the millennial beauty world via cheekbone-enhancing highlighters, brow-correcting brushes, and skin-blurring powders. The next logical step on its voyage to apparent worldwide domination? Body care, naturally. The buzzy brand has officially launched its Body Hero Duo: two products that are totally about to change up your shower time.
The dynamic duo includes the Body Hero Daily Oil Wash and Body Hero Daily Perfecting Cream, both of which are made to leave your skin feeling dewy and moisturized. Obviously, the products are bottled in that signature blush-pink packaging that has become synonymous with Glossier. Is it socially acceptable to Instagram a picture of your body wash? Asking for a friend . . .
Glossier paired this buzzy announcement with an equally as exciting array of inclusive campaign pictures to advertise the Body Hero Duo. Each of the photos features totally stripped-down women of various body types and skin tones. We're loving the diversity!
The Body Hero Duo is now available for purchase through Glossier's website, so get those credit cards ready! Read on to learn more about each of these shower-time upgrades and admire the stunning campaign images.
RelatedBelieve the Hype: Glossier's New SPF Is Seriously Amazing
Share:
More in Lifestyle...