The Cheesecake Factory's Fall Flavors Combine Pumpkin AND Pecan Pie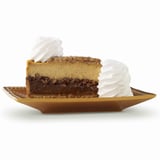 Get the Full Story
On those days when the pumpkin cheesecake cravings hit but you can't bother with making a homemade version, you'll thank The Cheesecake Factory for having your back. The beloved chain restaurant has re-released its Pumpkin Cheesecake and Pumpkin Pecan Cheesecake, and they're both enough to satisfy your sugary-pumpkin cravings and then some . The Pumpkin Cheesecake is a creamy cheesecake baked in a graham-cracker crust and topped with fresh whipped cream. The Pumpkin Pecan Cheesecake is a combination of two of the best desserts; it has a layer of pecan pie and a layer of pumpkin cheesecake, finished with caramel and pecans in a flaky pastry crust. The dreamy Fall flavors will be on the menu through Thanksgiving Day, so you have plenty of time to try them.
As if we needed a reason to order these other than the fact that they're Fall-dessert heaven, they're also supporting a good cause. The Cheesecake Factory says that for every slice of Pumpkin and Pumpkin Pecan Cheesecakes sold through Thanksgiving, the restaurant will donate 25 cents to Feeding America, the nation's largest organization dedicated to fighting domestic hunger through a network of food banks. Sounds like a win-win to us!
Share:
More in Lifestyle...