These Harry Potter PJs Are So Damn Cute, We're Crying Into Our Butterbeer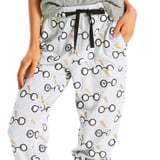 Get the Full Story
There's nothing more satisfying than curling up with your favorite Harry Potter book - unless you're decked out in cozy Potter-inspired pajamas while you're reading. Then it's just plain bliss. Peter Alexander, an Australian sleepwear company, released a pajama collection that will have Harry Potter fans obsessing over every single piece. From bedroom slippers and comfy pants bedazzled in Harry's signature lightning bolts to sleep t-shirts with Hogwarts logos, the line is simply perfection. Take a look at the items and get ready to have a full shopping cart.
RelatedThis Irish Brand's New Harry Potter Collection Is So Damn Magical and Affordable, I'm Crying
Share:
More in Lifestyle...