Aldi's Pumpkin Spice Yogurt Pretzels Will Definitely Convert Any Hater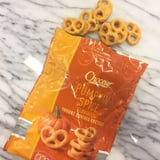 Get the Full Story
The pumpkin spice foods just keep coming and coming, and we aren't mad about it. We've tried a little bit of everything, from Ben & Jerry's ice cream to pumpkin yogurt. Several of our favorite stores are even releasing a collection of pumpkin-flavored foods for Fall, including Aldi, which has a few pumpkin options to choose from.
One of Aldi's pumpkin treats is pumpkin spice yogurt-covered pretzels, which will be available for 2 starting Oct. 18 in stores. We got our hands on a bag just a little early, and trust me when I say that if there is only one pumpkin spice food you pick up this Fall, it should be these. The yogurt-covered pretzels taste like a pumpkin pie, thanks to the pretzels. The yogurt coating has a pumpkin flavor that includes all the spices reminiscent of Fall, like cinnamon and nutmeg. The crunchy snacks are so good that you might find yourself chowing down the entire bag, kinda like I just did. They're so good, though, that they're hard to resist!
Share:
More in Lifestyle...