Good News, Nerds: 30 Rock Is Coming to Hulu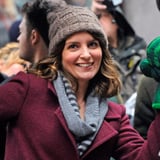 Get the Full Story
Just when you thought that the year couldn't get any worse, Netflix announced that 30 Rock would be leaving its streaming platform along with How I Met Your Mother, Friday Night Lights, and more beloved TV shows . Fortunately for all of our weekend binging habits, Hulu swooped in to save the day. Tina Fey's comedy will start streaming on the network on Oct. 1 as part of a massive SVOD deal with NBC Universal.
Further included in the deal are shows like NBC's family drama Parenthood, SyFy's special effects competition Face-Off, and British reality series Made in Chelsea, all of which will hit Hulu sometime in 2018. This exciting news comes hot on the heels of the big reveal that all 194 episodes of Will & Grace are also be streaming on Hulu now. Step your game up, Netflix.
Share:
More in Lifestyle...