28 Healthy Chinese Recipes That Beat Any Takeout Menu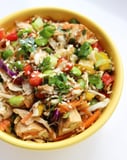 Get the Full Story
If there's one thing we know, it's that switching up what we eat and trying out new recipes make eating healthy a whole lot easier. So instead of reaching for the phone to order a sodium-filled meal of sesame chicken, just make a better version yourself! There are plenty of healthy, easy Chinese food recipes that will become your new "takeout," and we have them for you here.
Related25 Delicious Mexican Recipes That Are Actually Healthy - Yes, HEALTHY!
Share:
More in Lifestyle...