Queen Letizia's Heels Are Nice, but It's Her Dress That Will Have You Doing a Double Take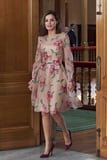 Get the Full Story
First Queen Letizia wore a midi dress that was the perfect mix of Fall and Spring, and now she's repeating the trend but with a twist. The Spanish royal attended the Princess of Asturias Awards in Spain alongside her husband, King Felipe VI. She wore a dress that hit her just above the knee with pink flowers and green leaves. She finished off her look with a pair of burgundy Uterq e heels and emerald and ruby Tous earrings. The best part is the little detail at the wrists. It has pink ties that you can tie in a bow and hang off just a bit. It's the perfect addition to the beige dress. We might not know the specific dress, but you can shop similar options and look just like the royal.
RelatedQueen Letizia Isn't Afraid to Wear a Good Outfit More Than Once - or Twice
Share:
More in Lifestyle...