Playboy Doesn't Care If You Reject Its Transgender Playmate - and Here's Why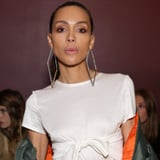 Get the Full Story
On Thursday, Oct. 20, Playboy announced its plans to feature a transgender model as the centerfold in the magazine's November issue. The newest playmate, Ines Rau, is a French model who has appeared in issues of American and Italian Vogue as well as in a 2014 Balmain high-fashion campaign. The decision comes less than a month after Hugh Hefner's death in late September, and according to Cooper Hefner, the 26-year-old son of the late founder who is now a top executive at Playboy, the inclusion of Rau "very much speaks to the brand's philosophy." He added, "It's the right thing to do. We're at a moment where gender roles are evolving."
The bold decision was immediately met with controversy. A quick glance at the company's announcement posts on Twitter, Facebook, and Instagram will provide more than enough insight into the hateful backlash Rau's centerfold spread has received. But instead of cowering or remaining silent in the face of this naked hatred for her identity, Playboy instead doubled down by comparing the reaction to something similar that happened all the way back in 1965, when it debuted its first black Playmate, Jennifer Jackson.
In March 1965, we featured Jenny Jackson, our first black Playmate. pic.twitter.com 2zXtQ4EDrd
- Playboy Playboy October 19, 2017
Many fans revoked their subscription or returned the issue. pic.twitter.com Xueo3hSDmx
- Playboy Playboy October 19, 2017
Many more fans embraced Jenny Jackson, her beauty, and Playboy's decision. pic.twitter.com CUimjjbNbt
- Playboy Playboy October 19, 2017
The comparison makes a striking point about bigotry. In today's modern landscape, readers don't think twice about a black Playmate. But 50 years ago, when the Civil Rights Movement was more or less in its infantry, Playboy's decision to stand on the side of equality and integration was a big deal. And it's clear that at the time, the majority of the population was resistant to change.
As the tweets suggest, we're seeing history repeat itself. Even though the greater LGBTQ rights movement has made a lot of progress in the past decade, transgender individuals seem to face the most adversity from the general public. Michael Silverman, the former executive director of the Transgender Legal Defense and Education Fund, stated in a 2013 interview that the transgender rights movement lags further behind the fight for gay and lesbian equality. "My sense is that we are 20 years behind the mainstream gay and lesbian movement in terms of public understanding," he said.
RelatedA Former Playboy Bunny Shares 8 Secrets About the Job That Will Surprise You
The comments on Rau are concrete proof of the public's lack of understanding and acceptance of transgender people, making Playboy's decision to both feature a transgender model and defend her so impactful. Just like it announced its first black Playmate during a particularly divisive era for race in America, so too is it debuting a transgender model in a time when bigotry and small-minded mentalities - specifically in the context of gender identity - reign supreme.
It's worth noting that Rau doesn't really care if you accept her either. "It's a salvation to speak the truth about yourself, whether it's your gender, sexuality, whatever," she said. "The people who reject you aren't worth it. It's not about being loved by others; it's about loving yourself."
RelatedDid You Know a Black Woman Designed the First Playboy Bunny Costume?
Oh, and by the way, here's a fun fact for all the haters out there: Playboy actually has featured transgender models before. In 1990, Caroline Cossey had already been outed as a transgender supermodel. Not only did the magazine print a spread, a cover, and a full interview with Coffey, but the model detailed how Hugh Hefner specifically fought to tell her story. So, no, Hefner is not rolling around in his grave because of Ines Rau. And anyone who's making a big deal about the first transgender Playmate is not only small-minded - they're also simply not paying enough attention.
Share:
More in Lifestyle...