This Bag Dominated New York Fashion Week - and It's Not Going Away Anytime Soon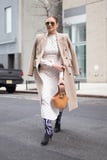 Get the Full Story
Street style trends are born out of New York Fashion Week, so we like to keep watch for the next big thing. This season, one name reigns supreme: Danse Lente the words mean "slow dance" in French . The handbag company, which is based in London, quickly landed on fashion girls' radars thanks to its signature architecture-inspired bags. The designs are logo-less save for a small inscription of the brand's name , and they come at an affordable price point. It's no wonder street style stars decided to rock the brand at Fashion Week - the sleek designs amp up any outfit they're styled with! We'll take comfort knowing Danse Lente isn't going anywhere. Expect the bag to pop back up on the streets of London, Milan, and Paris. Read ahead to get inspired to scoop up one of these satchels for your own rotation.
RelatedI Brought My Boyfriend to a Fashion Show, and It Changed My Perspective Completely
Share:
More in Lifestyle...