Meghan Markle's Jewelry Might Be Dainty, But This 1 Bracelet Is Full of Meaning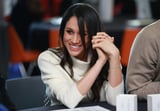 Get the Full Story
Meghan Markle was reportedly baptized into the Church of England in a secret ceremony at London's St. James's Palace. Afterwards, the soon-to-be royal was confirmed, and it looks like she's sporting a new piece of jewelry to commemorate the important ritual. Just like the rest of her collection, Meghan's thin, silver chain, complete with a delicate cross, isn't a statement piece, but a wear-everyday sort of accessory.
Meghan paired it with a Birks diamond bar bracelet 925 when she stepped out alongside Prince Harry for a visit to Birmingham, also sporting a J. Crew coat, AllSaints sweater, and covetable Altuzarra bag. Ahead, you can get a closer look at the new bracelet you might have missed, which must be very meaningful to Meghan and her journey to marriage.
RelatedMeghan Markle's Jewelry Trick Is So Ingenious, You'll Want to Try It For Yourself
Share:
More in Lifestyle...