Clifford The Big Red Dog Is Coming Back to TV, and OMG, Our Inner-Kids Are Screaming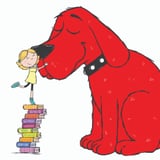 Get the Full Story
Children of the '90s and '00s - I have a very important announcement! Emily Elizabeth and her big red dog, Clifford, are officially making a comeback! Clifford the Big Red Dog, a beloved book series by Norman Bridwell that was turned into a TV show that ran from 2000 to 2003, is coming back to TV in 2019 thanks to PBS Kids and Amazon Prime Video. The reboot will have an updated and refreshed look as seen above , but that's not all - its focus will be shifted to better service the kids of today tuning into the show.
"Although still set on Birdwell Island, Clifford The Big Red Dog will offer fresh and colorful new locations," reads a press release about the series, which has 39 new episodes three seasons! in production as of now. "The rebooted show will also have a strong emphasis on social-emotional skills such as empathy, along with a solid curriculum designed to boost early literacy and encourage imaginative play teaching as it entertains with Clifford-sized humor."
We can't wait for Fall 2019!
Share:
More in Lifestyle...