Whoa! Kanye West's Racy Yeezy Desert Rat Campaign Shakes the Internet to Its Core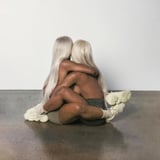 Get the Full Story
You'd think that after releasing two back-to-back albums, Kanye West would take some time off, but he clearly had another plan in mind. The singer designer revealed his new Yeezy Desert Rat campaign, and let's just say you're going to want to take a look. The series, which is shot by Eli Linnetz, features a bunch of models posing in Kanye's Yeezy 500 Supermoon sneakers paired with the brand's trademark muted athleisure pieces.
The racy campaign has plenty of NSFW images that shook the internet, and it even stars adult film actress Lela Star, who bears a strong resemblance to Kim Kardashian. Much like his Season 6 campaign that featured an array of Insta-celebrities like Paris Hilton and Jordyn Woods, Ye did another round of social media advertisements. Keep reading to take a look at the eye-catching campaign and let us know what you think.
Related:
A Comprehensive Guide to Every Shoe Kanye West Made Famous
Share:
More in Lifestyle...