Who Did Ariana Grande Date Before Pete Davidson Put a Ring on It? A Look at Her Past Loves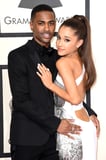 Get the Full Story
Ariana Grande may be getting ready to make the walk down the aisle with Pete Davidson, but long before the Saturday Night Live star came along, Ariana actually opened up her heart to seven other guys. From rappers to backup dancers to a YouTube star, the 24-year-old "No Tears Left to Cry" singer has definitely dated a variety of different men and she may have even been engaged to one. Ahead, check out all the guys who let Ariana love them before Pete put a ring on it.
Related:
Ariana Grande May Have Had the Most Dramatic Transformation Yet
Share:
More in Lifestyle...