The Immediate Bond Between the Queen and Meghan Markle Is Clear For All to See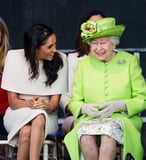 Get the Full Story
The Duchess of Sussex reached another major royal milestone when she left Prince Harry at home to embark on her first official outing with Queen Elizabeth II, and they're two peas in a pod already. Clearly the former Suits actress is winning over each member of the royal family in turn: it looks like she has a close bond with Camilla, Duchess of Cornwall, and she and Kate Middleton also seem to have hit it off, too. We know the queen can be a bit of a joker and it looks like Meghan has already succeeded in making Her Majesty laugh, giving us plenty of cute moments between the pair.
It definitely seems like Meghan has been welcomed into the royal family with open arms. She was invited to spend Christmas with the family as Prince Harry's fianc e, and the queen even keeps an adorable photo of the couple on display at Buckingham Palace. Meghan have have only attended one official royal engagement alone with the queen so far, but we've already caught glimpse at their sweet relationship. Ahead, catch all the charming moments between these two.
Share:
More in Lifestyle...