Watch Dax Shepard Hilariously Explain Why Kristen Bell Wears Gloves in the Pool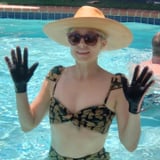 Get the Full Story
Dax Shepard learned an interesting fact about Kristen Bell recently: she wears gloves in the pool. The always-adorable couple recently hung out by a pool, and while Kristen doesn't usually like to swim, it was so hot outside that she had to. She said, "I gotta get my pool gloves!" Dax explained during his Wednesday appearance on Jimmy Kimmel Live. Never having seen these outdoor gloves before, Dax asked, "Doing some underwater welding? What are you talking about?!" It turns out Kristen really hates getting pruney fingers same, to be honest . Everything is funnier when Dax Shepard explains it, so watch the video above to relive the moment.
A post shared by Dax Shepard daxshepard on Jul 8, 2018 at 2:17pm PDT
Share:
More in Lifestyle...