12 Floral Tops You'll Want For Summer but Can Wear Through Fall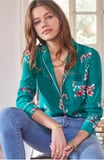 Get the Full Story
Every time a new season rolls around, like clockwork, we're ready for new clothes. As the weather heats up, we can't wait to treat ourselves to pretty floral tops and blouses. These versatile pieces go beyond just Summer, too; we rounded up a list of chic finds that you can wear through Fall and get your money's worth. From off-the-shoulder choices to ruffle tank tops you can layer and sleek, pajama-inspired blouses, we have a feeling you'll want them all. Take a look at our favorites ahead.
Related:
Trust Us - You'll Want These 11 Stylish Tops For Summer, and They're All Under 40
Share:
More in Lifestyle...