26 Cozy Fashion Gifts That'll Give You That Warm and Fuzzy Feeling Inside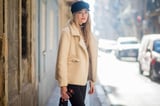 Get the Full Story
There's something special about opening a cozy gift during the holiday season - one that makes you coo, "I'm going to wear this all Winter long!" But we're fashion people, and boring striped socks just won't cut it. And hey, we know the same goes for our friends, sisters, and moms. So we went on a hunt for fashionable finds that'll make us feel warm on the inside and the outside, too.
Whether it's a plush pillow, a slinky pajama set, or a warm sweater to help you brave the cold temperatures, all of these gifts will make you glad it's Winter, believe it or not. Light a fire and get to shopping. Hopefully you've already got the marshmallows and hot chocolate in your kitchen cabinet.
- Additional reporting by Sarah Wasilak
Related:
35 Holiday Gifts to Make Your Man the Most Stylish Person You Know
Share:
More in Lifestyle...