100 Vintage-Inspired Engagement Rings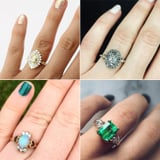 Get the Full Story
When it comes to engagement rings, maybe you prefer small, big, or unique. No matter the cut you adore, though, it's easy to see why many women go for vintage-inspired jewels to embellish their left hands - they're simply breathtaking! Ahead are incredible engagement rings that will fuel your love of antiques.
Additional reporting by Ashley Paige
Related:
All the Engagement Ring Trends You Could Possibly Need to Know For 2019
Share:
More in Lifestyle...