I'm an Expert Amazon Shopper, and These Are the 10 Best Things I've Bought Recently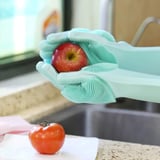 Get the Full Story
As a shopping editor, I spend my days browsing the internet for the hottest new products and best deals. One of my favorite places to search is no surprise: Amazon. The online retailer has always been my go-to for stuff like home cleaning products or my favorite vitamins, but most recently I've found myself buying everything from tech gadgets to home furniture. Ahead, I curated a list of the 10 best things I've bought so far this year to give you a little inspiration for your own shopping cart. Take a look at my top picks ahead, from the stylish puffer coat that's taking over New York to silicone dish-washing gloves.
Related:
I Tried the Amazon Orolay Coat That's Taking Over the Internet
Share:
More in Lifestyle...