I'm Full-On Melting Over Alicia Keys and Her Son Performing "Raise a Man" Together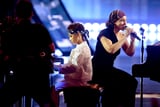 Get the Full Story
It looks like Alicia Keys's son Egypt has piano skills that are just as impressive as his mama's! The 8-year-old took the stage at the 2019 iHeartRadio Music Awards to help Keys perform "Raise a Man," a beautiful track she released last month after hosting the Grammy Awards. As his mom belted out the song's touching lyrics, Egypt played the piano in a bedazzled white outfit like a total pro. Perhaps the best part of their joint performance was when Keys stood up and told the crowd to wave their hands to the song, which prompted Egypt to start floss dancing, naturally. Keep reading to see the sweet mother-son duo in action - your heart just might melt from cuteness overload.
Related:
Joe Alwyn Better Watch Out, Because Alicia Keys's 4-Year-Old Son Is Smitten With Taylor Swift
Share:
More in Lifestyle...