These Behind-the-Scenes Photos of the Schitt's Creek Cast Have Me Weeping Like a B b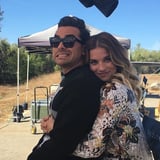 Get the Full Story
Ever since the curtain closed on Schitt's Creek's sixth and final season, I've been trying my darnedest to hang onto the series for dear life. My attempts to fill the giant, disgruntled pelican-shaped void left by the show's departure led me to stumble upon the Instagram accounts of Lucky Bromhead and Ana Sorys, the makeup artist and hairstylist behind some of Schitt's Creek's best looks, respectively. Both insanely talented women worked in some capacity on all six seasons of the Canadian sitcom and have shared tons of prime behind-the-scenes content of the cast through the years.
From funny pictures of Catherine O'Hara Moira Rose goofing off on set to videos of Annie Murphy Alexis Rose and Dan Levy David Rose singing and dancing along to music between scenes, Lucky and Ana have blessed fans with some seriously A footage. If you, too, are experiencing Rose family withdrawals, take a look through some of the best snaps ahead to see just how close the Schitt's Creek squad is even when the cameras aren't rolling. So, how about a seventh season, Dan?
Related:
Sorry, but the Rose Family Have Nothing on Eugene, Dan, and Sarah Levy's Real-Life Bond
Share:
More in Lifestyle...