Please Welcome Bella Hadid as the Newest Member of the Shag Haircut Club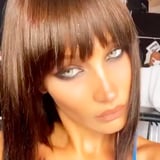 Get the Full Story
View this post on Instagram A post shared by Bella bellahadid
Bella Hadid really looks good in any hairstyle, doesn't she? The model has been playing around with different hues and lengths over the past few months, and on Saturday, she debuted a style that's been getting a lot of love in 2020. On the set of an undisclosed project, Hadid showed off bangs and what appears to be a shaggy bob in a dark brunette shade color courtesy of Jenna Perry , becoming the latest star to join in on the shag haircut trend.
Like many of us who've socially distanced, Hadid has tried cutting her own hair at home this year, but she put this new collarbone-length chop in the hands of professional stylist Shay Ashual. From the video she posted on Instagram, it's unclear whether or not her bangs are clipped in, but we know she'd own the look either way. Welcome to the shaggy bob club, Hadid. Regardless of whether you're here for a long or short time, it's bound to be a good time.
Share:
More in Lifestyle...