Squats Galore! This Saweetie "Best Friend" Workout Will Fire Up Your Thighs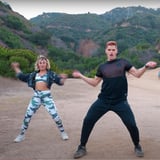 Get the Full Story
Grab your virtual workout buddy and get ready to work your legs and butt with The Fitness Marshall's newest workout, set to none other than "Best Friend" by Saweetie featuring Doja Cat. At less than three minutes long, this fast and fun routine is all dance cardio, so you'll definitely be out of breath by the end. And we couldn't help but notice how many glute and leg moves got mixed in, including squats and twerking, so be prepared to feel some burn in your lower body! Check out the quick workout above to engage your muscles and start sweating!
Related:
Strengthen Your Core Without Getting Up! Try This Intense 10-Minute Pilates Workout
Share:
More in Lifestyle...