Disney Will Exclusively Stream Flora & Ulysses, a Movie Based on the Beloved Kids Novel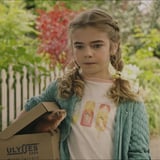 Get the Full Story
Newbery Award-winning book, Flora & Ulysses, is becoming a movie set to stream exclusively on Disney this February. The movie will follow the same plot as the novel by Kate DiCamillo, in which a 10-year-old girl named Flora with recently separated parents played by Alyson Hannigan and Ben Schwartz! rescues a squirrel she names Ulysses. When comic book-lover Flora discovers Ulysses has super powers, the pair are taken on an adventure filled with humorous mishaps, and ultimately, Flora finds her outlook on life is completely changed.
Watch the trailer for Flora & Ulysses above, and keep scrolling to see first photos from the film and to grab a copy of the book to read with your kids before the movie drops on Disney Feb. 19.
Related:
Finding 'Ohana, a Sweet Movie About Family Connections and Heritage, Hits Netflix This Month
Share:
More in Lifestyle...